Low rates of exclusive breastfeeding are still evident in four South African provinces
Linda Precious Siziba

North-West University

Johann Jerling

North-West University

Susanna M Hanekom

North-West University

Edelweiss Wentzel-Viljoen

North-West University
Keywords:
exclusive breastfeeding, South Africa, low rates, infant feeding practices
Abstract
Objectives: Breastfeeding is one of the primary strategies used to enhance infant nutrition and improving child survival worldwide. The intention of globally increasing the rate of exclusive breastfeeding (EBF) to at least 50% of infants in the first six months of life was stated in the 2014 International Conference on Nutrition Rome Declaration on Nutrition and the Post-2015 Development Agenda. This study aimed to explore the infant-feeding practices of mothers and caregivers of infants aged ≤ 6 months in four provinces in South Africa. Setting and subjects: This cross-sectional study was conducted in four provinces in South Africa. In total, 40 health facilities were randomly selected in the four provinces and visited, including metropolitan and non-metropolitan health facilities over the geographical area of the provinces. The sample size comprised mothers and/or caregivers of babies aged ≤ 6 months. Design: Fixed-format interviews were used in this cross-sectional study on 580 mothers and/or caregivers. The mothers completed 24-hour recall based on the Food and Agriculture Organization of the United Nations dietary diversity list, consisting of 12 different food groups, to assess dietary intake and diversity. Results: The EBF rate for infants up to the age of six months was 12%. Mothers who delivered full-term babies were most likely to initiate breastfeeding within the first hour of delivery. More than a third of the mothers had ceased breastfeeding by one month (40%, n = 23). The introduction of complementary food took place in 17% of infants during this first month. The minimum standards of dietary diversity were met by one infant only. Different reasons found to influence mothers' feeding practices included needing to return to work (29%) or their studies (12%), the mothers' health status (25%), and perceptions of an "insufficient" milk supply (13%). Conclusion: Therefore, new strategies should address these gaps in knowledge with key breastfeeding awareness messages and a special focus on community involvement and participation. There is also a need for the whole nutrition fraternity, including government, academia and development industries, to intervene by developing more innovative approaches to increase the rate of EBF in South Africa.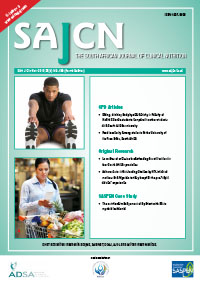 How to Cite
Siziba, L., Jerling, J., Hanekom, S., & Wentzel-Viljoen, E. (2015). Low rates of exclusive breastfeeding are still evident in four South African provinces. South African Journal of Clinical Nutrition, 28(4), 170-179. Retrieved from http://www.sajcn.co.za/index.php/SAJCN/article/view/996
Section
Original Research
Material submitted for publication in the South African Journal of Clinical Nutrition (SAJCN) is accepted provided it has not been published elsewhere. Copyright forms will be sent with acknowledgement of receipt and the SAJCN reserves copyright of the material published.
The SAJCN does not hold itself responsible for statements made by the authors.