III. Responsive feeding: establishing healthy eating behaviour early on in life
Janetta Harbron

University of Cape Town

S Booley

University of Cape Town

B Najaar

University of Cape Town

C E Day

University of Cape Town
Keywords:
responsive feeding, eating behaviour, parenting styles, feeding environment, non-responsive feeding
Abstract
Responsive feeding (RF) refers to a reciprocal relationship between an infant or child and his or her caregiver that is characterised by the child communicating feelings of hunger and satiety through verbal or nonverbal cues, followed by an immediate response from the caregiver. The response includes the provision of appropriate and nutritious food in a supportive manner, while maintaining an appropriate feeding environment. The literature indicates that RF is the foundation for the development of healthy eating behaviour and optimal skills for self-regulation and self-control of food intake. Therefore, practising RF is associated with ideal growth standards, optimal nutrient intake and long-term regulation of weight. On the other hand, nonresponsive feeding (NRF) practices are associated with feeding problems and the development of under- or overnutrition. Different types of NRF behaviour have been described, where the caregiver is either uninvolved during meals, too restrictive or controlling, or allows the child to control mealtimes. Consequently, mealtimes may become cumbersome, characterised by inconsistent, nonresponsive interaction, and may result in a relationship that is lacking in trust. The effects of RF and NRF are reviewed in this article and the practical guideline to "Feed slowly and patiently, and encourage your baby to eat, but do not force them" is suggested as appropriate for inclusion in the proposed South African paediatric Food Based Dietary Guidelines. It is also acknowledged that RF practices are best established when mothers choose to breastfeed on demand, as they are less controlling and more responsive to their infants' internal hunger and satiety cues.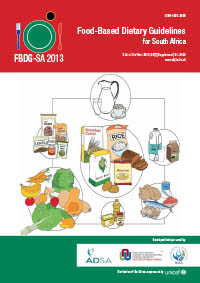 How to Cite
Harbron, J., Booley, S., Najaar, B., & Day, C. (2013). III. Responsive feeding: establishing healthy eating behaviour early on in life. South African Journal of Clinical Nutrition, 26(S), S141-S149. Retrieved from http://www.sajcn.co.za/index.php/SAJCN/article/view/758
Section
Paediatric Food-Based Dietary Guidelines for South Africa
Material submitted for publication in the South African Journal of Clinical Nutrition (SAJCN) is accepted provided it has not been published elsewhere. Copyright forms will be sent with acknowledgement of receipt and the SAJCN reserves copyright of the material published.
The SAJCN does not hold itself responsible for statements made by the authors.