11. Sugar and health: a food-based dietary guideline for South Africa
Norman J Temple

Athabasca University

Nelia P Steyn

Human Sciences Research Council
Keywords:
sugar consumption, sugar-sweetened beverages, dental caries, obesity
Abstract
The intake of added sugar appears to be increasing steadily across the South African population. Children typically consume approximately 40-60 g/day, possibly rising to as much as 100 g/day in adolescents. This represents roughly 5-10% of dietary energy, but could be as much as 20% in many individuals. This paper briefly reviews current knowledge on the relationship between sugar intake and health. There is strong evidence that sugar makes a major contribution to the development of dental caries. The intake of sugar displaces foods that are rich in micronutrients. Therefore, diets that are rich in sugar may be poorer in micronutrients. Over the past decade, a considerable body of solid evidence has appeared, particularly from large prospective studies, that strongly indicates that dietary sugar increases the risk of the development of obesity and type 2 diabetes, and probably cardiovascular disease too. These findings point to an especially strong causal relationship for the consumption of sugar-sweetened beverages (SSBs). We propose that an intake of added sugar of 10% of dietary energy is an acceptable upper limit. However, an intake of < 6% energy is preferable, especially in those at risk of the harmful effects of sugar, e.g. people who are overweight, have prediabetes, or who do not habitually consume fluoride (from drinking fluoridated water or using fluoridated toothpaste). This translates to a maximum intake of one serving (approximately 355 ml) of SSBs per day, if no other foods with added sugar are eaten. Beverages with added sugar should not be given to infants or to young children, especially in a feeding bottle. The current food-based dietary guideline is: "Use foods and drinks containing sugar sparingly, and not between meals". This should remain unchanged. An excessive intake of sugar should be seen as a public health challenge that requires many approaches to be managed, including new policies and appropriate dietary advice.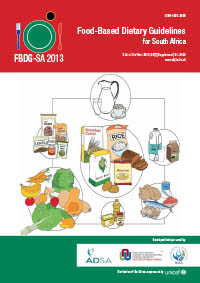 How to Cite
Temple, N., & Steyn, N. (2013). 11. Sugar and health: a food-based dietary guideline for South Africa. South African Journal of Clinical Nutrition, 26(S), S100-S104. Retrieved from http://www.sajcn.co.za/index.php/SAJCN/article/view/752
Section
Food-Based Dietary Guidelines for South Africa
Material submitted for publication in the South African Journal of Clinical Nutrition (SAJCN) is accepted provided it has not been published elsewhere. Copyright forms will be sent with acknowledgement of receipt and the SAJCN reserves copyright of the material published.
The SAJCN does not hold itself responsible for statements made by the authors.