8. "Fish, chicken, lean meat and eggs can be eaten daily": a food-based dietary guideline for South Africa
Hettie Carina Schonfeldt

University of Pretoria

B Pretorius

University of Pretoria

N Hall

University of Pretoria
Keywords:
fish, chicken, lean meat, eggs, daily
Abstract
Food products from animals provide a variety of macro- and micronutrients. Animal sources of food, such as fish, chicken, meat and eggs, constitute high-quantity and high-quality protein, as they contain essential amino acids in the right proportions. In South Africa, eight micronutrients, namely vitamin A, vitamin B1, vitamin B2, vitamin B6, vitamin B12, niacin, iron and zinc, have been identified as lacking in the population's diet. Animal-sourced food is a particularly rich source of these nutrients. Relatively small amounts of these foods, added to a mixed diet, make a substantial contribution to nutrient adequacy. Generally, animal sources of food are associated with nutrients that are less desirable in the diet, such as saturated fat and cholesterol. However, by choosing lean prudent portions of these foods, the intake of such macronutrients can be controlled. Animal sources of food add variety and nutrients to the diet. Adding a small amount of these food products to a plant-based diet can yield considerable improvements in human health. For a variety of reasons, some people choose not to eat meat, but as there is no evidence that a moderate intake of fish, chicken, lean meat and eggs has a negative effect on health, there is no scientific justification to exclude them from the diet. As recommended in global food-based dietary guidelines, when consumed in moderation, fish, chicken, lean meat and eggs can be part of a healthy, South African diet.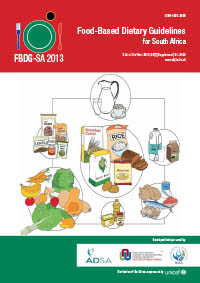 How to Cite
Schonfeldt, H., Pretorius, B., & Hall, N. (2013). 8. "Fish, chicken, lean meat and eggs can be eaten daily": a food-based dietary guideline for South Africa. South African Journal of Clinical Nutrition, 26(S), S66-S76. Retrieved from http://www.sajcn.co.za/index.php/SAJCN/article/view/747
Section
Food-Based Dietary Guidelines for South Africa
Material submitted for publication in the South African Journal of Clinical Nutrition (SAJCN) is accepted provided it has not been published elsewhere. Copyright forms will be sent with acknowledgement of receipt and the SAJCN reserves copyright of the material published.
The SAJCN does not hold itself responsible for statements made by the authors.