7. "Have milk, maas or yoghurt every day": a food-based dietary guideline for South Africa
Hester H Vorster

North West University (Potchefstroom)

F A M Wenhold

University of Pretoria

H H Wright

North-West University

E Wentzel-Viljoen

North-West University

C S Venter

North-West University

M Vermaak

Consumer Education Programme of Milk SA
Keywords:
milk, dairy, nutrients, health benefits, barriers
Abstract
A national working group recently reached consensus that a guideline message for milk consumption should form part of the set of revised food-based dietary guidelines (FBDGs) for South Africa. The message was formulated as: "Have milk, maas or yoghurt every day". This paper provides scientific support for this FBDG, based on the nutrition and health profile of South Africans; addresses concerns about possible detrimental effects of milk consumption, such as lactose intolerance, saturated fat and trans-fat content, milk allergies and dental caries in children; and identifies barriers to increased consumption. The guideline refers to milk, maas and yoghurt, and not all dairy products. This is based on the nutrient contribution of these products to a healthy diet. Milk (and some dairy products) has a low sodium-to-potassium ratio, as well as bioactive peptides, which may protect against the development of noncommunicable diseases. There is some evidence that the calcium in milk and dairy plays an important role in the regulation of body weight and bone mineral content in children. Available data show that milk and calcium intake in South Africans is low. Identified barriers include perceptions about lactose intolerance, taste, price, lack of knowledge on the nutritive value of milk and milk products, and possibly cultural taboos. As a result, increasing the consumption of milk, maas and yoghurt of South Africans will require active, multifaceted and multilevel promotion.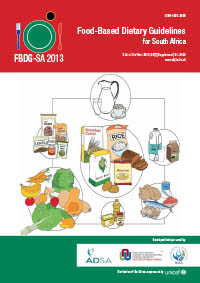 How to Cite
Vorster, H., Wenhold, F., Wright, H., Wentzel-Viljoen, E., Venter, C., & Vermaak, M. (2013). 7. "Have milk, maas or yoghurt every day": a food-based dietary guideline for South Africa. South African Journal of Clinical Nutrition, 26(S), S57-S65. Retrieved from http://www.sajcn.co.za/index.php/SAJCN/article/view/746
Section
Food-Based Dietary Guidelines for South Africa
Material submitted for publication in the South African Journal of Clinical Nutrition (SAJCN) is accepted provided it has not been published elsewhere. Copyright forms will be sent with acknowledgement of receipt and the SAJCN reserves copyright of the material published.
The SAJCN does not hold itself responsible for statements made by the authors.