4. "Make starchy foods part of most meals": a food-based dietary guideline for South Africa
Hester H Vorster

North West University (Potchefstroom)
Keywords:
Dietary carbohydrates, food-based dietary guidelines, starch, dietary fibre, non-starch polysaccharides, whole grains, sugars, monosaccharides, disaccharides, oligosaccharides
Abstract
A national working group, convened by the Directorate Nutrition in the Department of Health, recently revised the set of South African food-based dietary guidelines (FBDGs). The objective of this technical review paper is to motivate and support the FBDG "Make starchy foods part of most meals". The wording of this FBDG has not changed substantially from the original, but international scientific developments in carbohydrate nutrition necessitated a new look at the importance of this guideline. A brief review of the classification, definition and terminology used to describe the different types of dietary carbohydrates as advised by a Food and Agriculture Organization of the United Nations and World Health Organization consultation is followed by a discussion of the beneficial physiological and metabolic health effects of dietary carbohydrates. The review further warns against the practice of a low-carbohydrate diet and shows that, although carbohydrate intake may still be high in some South Africans, there is an unfortunate pattern of decreased intake of total carbohydrates and increased intake of added sugar as part of the nutrition transition. The implications of existing nutrient intake data on South Africans and the proven beneficial effects of minimally processed starchy foods (additional micronutrients and dietary fibre to the total diet) support the recommendation that South Africans should eat starchy foods in the form of minimally processed or whole grains, legumes and root vegetables, rather than as refined starches and sugars. It is recommended that this FBDG should not be implemented and promoted in isolation. Consumers should be informed about food that contributes starch to the diet, and to eat this food as part of a varied diet.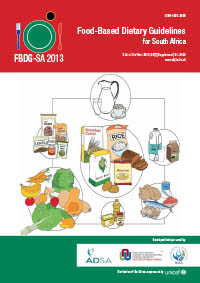 How to Cite
Vorster, H. (2013). 4. "Make starchy foods part of most meals": a food-based dietary guideline for South Africa. South African Journal of Clinical Nutrition, 26(S), S28-S35. Retrieved from http://www.sajcn.co.za/index.php/SAJCN/article/view/743
Section
Food-Based Dietary Guidelines for South Africa
Material submitted for publication in the South African Journal of Clinical Nutrition (SAJCN) is accepted provided it has not been published elsewhere. Copyright forms will be sent with acknowledgement of receipt and the SAJCN reserves copyright of the material published.
The SAJCN does not hold itself responsible for statements made by the authors.