3. "Be active!" Revisiting the South African food-based dietary guideline for activity
Chrisna Rachel Botha

North-West University

H H Wright

North-West University

S J Moss

North-West University

T L Kolbe-Alexander

University of Cape Town
Keywords:
physical activity participation, non-communicable disease, South Africa, public health
Abstract
The objective of this paper was to review current evidence on physical activity for health in order to support the food-based dietary guideline (FBDG) "Be active!". Physical activity, defined as at least 30 minutes of moderate-intensity physical activity per day for adults, and 60 minutes for children and adolescents, is advised in the FBDG because of the role it plays in maintaining energy balance, improving body composition and promoting general health and wellbeing. The reviewed outcome measures are changes in physical activity patterns and the reported prevalence of noncommunicable diseases (NCDs) in South Africa. Despite the previous set of FBDGs, no improvements in physical activity, obesity or NCDs have been reported in South Africa. Recent literature emphasises the beneficial effects of physical activity on the reduction of risk factors associated with the prevalence of NCDs. Physical activity has a positive effect on appetite and weight control, insulin sensitivity, dyslipidaemia, hypertension, stress relief and burnout. Barriers that prevent children and adults from participating in regular physical activity have been identified, and recommendations how to overcome these have been made. It has been concluded that South Africans are not sufficiently physically active for their general health status to be improved. It is recommended that methods to promote physical activity at national, provincial, district and local level need to be developed, implemented and sustained.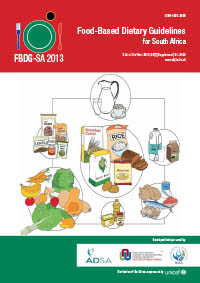 How to Cite
Botha, C., Wright, H., Moss, S., & Kolbe-Alexander, T. (2013). 3. "Be active!" Revisiting the South African food-based dietary guideline for activity. South African Journal of Clinical Nutrition, 26(S), S18-S27. Retrieved from http://www.sajcn.co.za/index.php/SAJCN/article/view/742
Section
Food-Based Dietary Guidelines for South Africa
Material submitted for publication in the South African Journal of Clinical Nutrition (SAJCN) is accepted provided it has not been published elsewhere. Copyright forms will be sent with acknowledgement of receipt and the SAJCN reserves copyright of the material published.
The SAJCN does not hold itself responsible for statements made by the authors.