1. An introduction to the revised food-based dietary guidelines for South Africa
Hester H Vorster

North West University (Potchefstroom)

J B Badham

North-West University

C S Venter

North-West University
Keywords:
food-based dietary guidelines, FBDGs, paediatric FBDGs, nutrition education, noncommunicable diseases, dietary adequacy
Abstract
Food-based dietary guidelines (FBDGs) are short, positive, science-based messages that aim to change the eating behaviour of the general population towards more optimal diets that meet energy and nutrient requirements, while simultaneously helping to protect against the development of noncommunicable diseases. Recently, a national working group revised the South African set of FBDGs (i.e. the draft paediatric FBDGs and the general FBDGs). Expert working groups have written technical support papers for each of the individual revised FBDGs published in this supplement of the journal. The recognition that child malnutrition remains a major public health problem in South Africa led to the formulation of a specific set of guidelines for the mothers and caregivers of infants and young children from birth to five years of age, based on existing paediatric nutrition-related health issues and local dietary habits. In this introductory paper, the process of the development and revision of the FBDGs for South Africa is briefly reviewed. The need for specific FBDGs is motivated by prevailing health risk factors and dietary intakes in South Africa. Potential barriers to the implementation of the guidelines are identified and recommendations are made for the development of educational material, as well as for the design of implementation, monitoring and evaluation programmes. It is concluded that the use of guidelines to educate and empower mothers and caregivers, as well as schoolchildren, adolescents and adults, on how to follow a healthier diet, could be a powerful tool in combating both under- and overnutrition-related public health problems throughout the life course.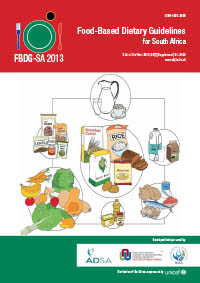 How to Cite
Vorster, H., Badham, J., & Venter, C. (2013). 1. An introduction to the revised food-based dietary guidelines for South Africa. South African Journal of Clinical Nutrition, 26(S), S5-S12. Retrieved from http://www.sajcn.co.za/index.php/SAJCN/article/view/740
Section
Food-Based Dietary Guidelines for South Africa
Material submitted for publication in the South African Journal of Clinical Nutrition (SAJCN) is accepted provided it has not been published elsewhere. Copyright forms will be sent with acknowledgement of receipt and the SAJCN reserves copyright of the material published.
The SAJCN does not hold itself responsible for statements made by the authors.