The social aspects of alcohol misuse/abuse in South Africa
B Marilyn Setlalentoa

North-West University

Pedro T Pisa

North-West University

G N Thekisho

North-West University

Elma H Ryke

North-West University

Du Toit Loots

North-West University
Keywords:
Social aspects, Psychological aspects, Alcohol abuse/misuse, South Africa
Abstract
Use of alcohol in Africa, particularly in South Africa, has a long history and is a way of life for many people, regardless of their socio-economic background. Alcohol abuse has many negative economic, social and health consequences. The objective of this review is to present in brief the history of alcohol use and the social and economic causes and consequences of alcohol abuse in South Africa. Research has shown that the socio-economic effects associated with alcohol abuse include unemployment, violence, crime, sexual risk behaviour and disruptions to family life and work performance. These effects are discussed by emphasising that social and economic changes stemming from urbanisation account for new patterns of drinking among most Africans. South African legislation pertaining to alcohol is also discussed in order to highlight the need for changing or amending certain acts if alcohol abuse is to be reduced.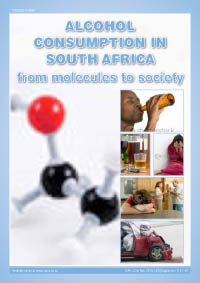 How to Cite
Setlalentoa, B., Pisa, P., Thekisho, G., Ryke, E., & Loots, D. (2009). The social aspects of alcohol misuse/abuse in South Africa. South African Journal of Clinical Nutrition, 22(5), S11-S15. Retrieved from http://www.sajcn.co.za/index.php/SAJCN/article/view/277
Material submitted for publication in the South African Journal of Clinical Nutrition (SAJCN) is accepted provided it has not been published elsewhere. Copyright forms will be sent with acknowledgement of receipt and the SAJCN reserves copyright of the material published.
The SAJCN does not hold itself responsible for statements made by the authors.