NSSA Newsbits
Editorial Office

Medpharm Publications
Abstract
The Northern branch of the Nutrition Society of South Africa (NSSA) held a joint scientific event with the Department of Human Nutrition and Dietetics at Sefako Makgatho Health Sciences University (SMU) in Ga-Rankuwa, Pretoria on 15 September 2017, with the theme "Updates on feeding the South African child". The event was opened by the Head of the Department of Human Nutrition and Dietetics at SMU, Prof Frederick Veldman, whereafter the Dean of the School of Healthcare Sciences, Prof S Lekalakala-Mokgele, welcomed the attendees and speakers.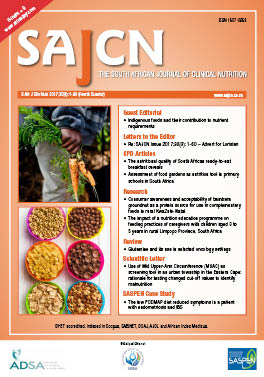 Material submitted for publication in the South African Journal of Clinical Nutrition (SAJCN) is accepted provided it has not been published elsewhere. Copyright forms will be sent with acknowledgement of receipt and the SAJCN reserves copyright of the material published.
The SAJCN does not hold itself responsible for statements made by the authors.