SASPEN News
Editorial Office

Medpharm Publications
Abstract
With the very successful congress that was held in Sun City in July 2015 still fresh in everyone's minds, SASPEN is going to make the congress presentations available to members in the member's area on the SASPEN website.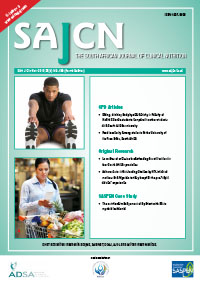 How to Cite
Office, E. (1). SASPEN News. South African Journal of Clinical Nutrition, 28(4), 196. Retrieved from http://www.sajcn.co.za/index.php/SAJCN/article/view/1069
Material submitted for publication in the South African Journal of Clinical Nutrition (SAJCN) is accepted provided it has not been published elsewhere. Copyright forms will be sent with acknowledgement of receipt and the SAJCN reserves copyright of the material published.
The SAJCN does not hold itself responsible for statements made by the authors.