ADSA Directions
Editorial Office

Medpharm Publications
Abstract
In 2020, ADSA is hosting the International Congress of Dietetics (ICD) in Cape Town, to be attended by members of the International Confederation of Dietetic Associations. This will be the first ICD Congress to be held on the African continent. ADSA is very excited to have won the bid for this conference, and has started preparations for this prestigious event. The first opportunity to market the 2020 event will be at the ICD Congress, held in September 2016 in Granada. ADSA is attending the congress in Spain to promote the 2020 Congress in Cape Town.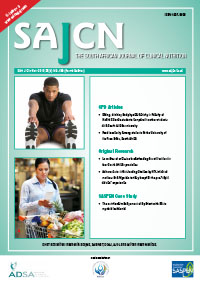 How to Cite
Office, E. (1). ADSA Directions. South African Journal of Clinical Nutrition, 28(4), 195. Retrieved from http://www.sajcn.co.za/index.php/SAJCN/article/view/1068
Material submitted for publication in the South African Journal of Clinical Nutrition (SAJCN) is accepted provided it has not been published elsewhere. Copyright forms will be sent with acknowledgement of receipt and the SAJCN reserves copyright of the material published.
The SAJCN does not hold itself responsible for statements made by the authors.