Strategies to increase the health literacy needed to complement health-promoting legislation in South Africa
Kebogile Elizabeth Mokwena

Sefako Makgatho Health Sciences University
Keywords:
Health promotion, legislation, nutrition information, health literacy
Abstract
The acknowledgement that nutrition is one of the major significant determinants of health has been accepted and acknowledged, and is the focus of many nutritional programmes is to ensure food safety. However, the nutritional component of health is not limited to the availability of food, but also to nutritional information about food. The South African government has implemented a number of measures to provide information to South African food consumers. Among such measures is legislation to enable consumers to make informed choices on what they buy and use, as reflected in the Government Gazette of March 2010 and in the salt-limiting legislation of 2013. According to the World Health Organization, health promotion is defined as the process of enabling people to take control of their lives. Complex health literacy skills are needed to enable that ability.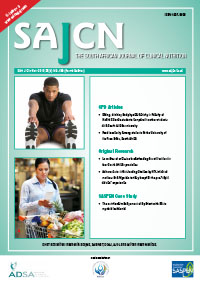 How to Cite
Mokwena, K. (2015). Strategies to increase the health literacy needed to complement health-promoting legislation in South Africa. South African Journal of Clinical Nutrition, 28(4), 197. Retrieved from http://www.sajcn.co.za/index.php/SAJCN/article/view/1049
Section
Short Reports or Scientific Letters
Material submitted for publication in the South African Journal of Clinical Nutrition (SAJCN) is accepted provided it has not been published elsewhere. Copyright forms will be sent with acknowledgement of receipt and the SAJCN reserves copyright of the material published.
The SAJCN does not hold itself responsible for statements made by the authors.