Food insecurity among students at the University of the Free State, South Africa
Louise van den Berg

University of the Free State

Jacques Raubenheimer

University of the Free State
Keywords:
food insecurity, students, University of the Free State, South Africa
Abstract
Objective: The objective of this study was to investigate food insecurity in students in a developing country with high national food insecurity. Design: This was a cross-sectional survey. Subjects and setting: Registered students at the University of the Free State were invited to participate. Thirty-one thousand and fourteen students were enrolled in 2013. One thousand, four hundred and sixteen students completed a self-administered web-based questionnaire. Outcome measures: Food insecurity was assessed using a one-item measure, i.e. the Australian National Nutrition Survey, and a 10-item measure, i.e. the United States Department of Agriculture Community Food Security Assessment Toolkit. Associations of food insecurity with biographical attributes, food procurement measures and coping strategies were determined using the chi-square test and multivariate logistic regression analysis. Results: The prevalence of food insecurity according to the one-item measure was 65%. Using the 10-item measure, 60% of the students experienced food insecurity "with hunger", and 26% food insecurity "without hunger". The highest prevalence of food insecurity was in black and coloured, undergraduate, first-generation and male students, as well as in students who were unmarried, unemployed and those relying on loans or bursaries. Using the regression model, the strongest significant predictors of food insecurity were race, gender, being a first-generation student, not having enough food money, having borrowed food money from parents, having asked for food and having sold belongings to obtain food. Conclusion: Severe food insecurity in students may be contributing to the high attrition rates experienced by universities in South Africa. Urgent intervention is required, as not having access to enough nutritionally adequate and safe food could be one of the reasons why more than 50% of South African university students never graduate.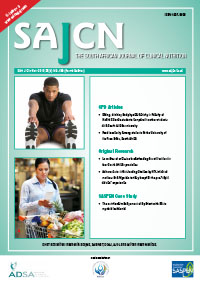 How to Cite
van den Berg, L., & Raubenheimer, J. (2015). Food insecurity among students at the University of the Free State, South Africa. South African Journal of Clinical Nutrition, 28(4), 160-169. Retrieved from http://www.sajcn.co.za/index.php/SAJCN/article/view/1028
Section
Original Research
Material submitted for publication in the South African Journal of Clinical Nutrition (SAJCN) is accepted provided it has not been published elsewhere. Copyright forms will be sent with acknowledgement of receipt and the SAJCN reserves copyright of the material published.
The SAJCN does not hold itself responsible for statements made by the authors.