Pancreas cancer with Whipple's operation
Reneé Blaauw

South African Society for Parenteral and Enteral Nutrition (SASPEN)
Keywords:
pancreas cancer, Whipple procedure, SASPEN case study
Abstract
The following case study was discussed at the SASPEN Workshop held during the Nutrition Congress 2014. It is a reflection of the general opinion of the audience, followed by a rationale of the latest literature on the topic. Herewith follows a summarised discussion of the case.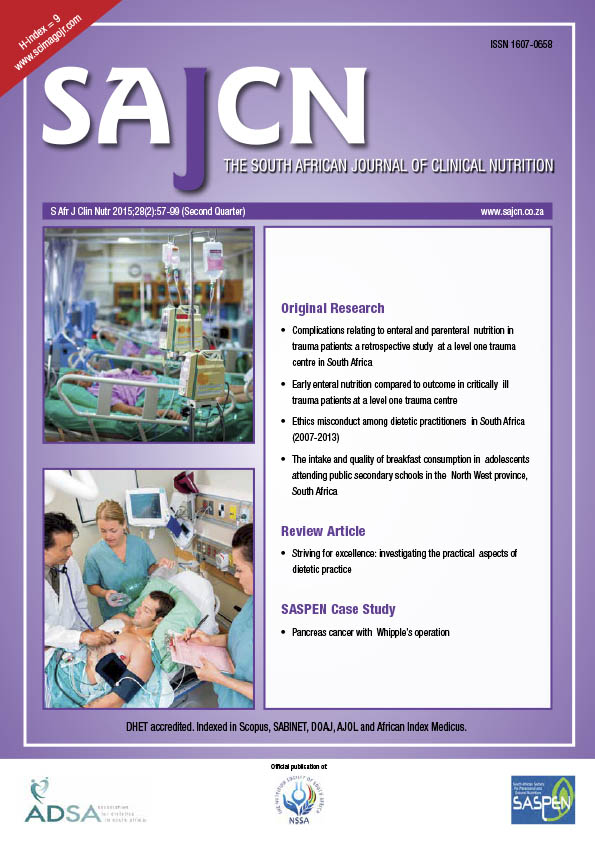 How to Cite
Blaauw, R. (1). Pancreas cancer with Whipple's operation. South African Journal of Clinical Nutrition, 28(2), 92-96. Retrieved from http://www.sajcn.co.za/index.php/SAJCN/article/view/1000
Section
SASPEN Case Study
Material submitted for publication in the South African Journal of Clinical Nutrition (SAJCN) is accepted provided it has not been published elsewhere. Copyright forms will be sent with acknowledgement of receipt and the SAJCN reserves copyright of the material published.
The SAJCN does not hold itself responsible for statements made by the authors.